Donor Spotlight
The Division of Geriatrics, Gerontology and Palliative Care is incredibly appreciative of the donations provided by individuals, who believe in the importance of geriatrics and share our vision to improve care for older adults. Two local philanthropists and their gifts to our division are highlighted below:
---
Mr. Irving G. Tragen
Mr. Irving G. Tragen has been a strong supporter of geriatrics for many years. His donations to the division are earmarked for the purposes of enabling research and investigation into the causes and effects of age-related disease and providing the UC San Diego Division of Geriatrics, Gerontology and Palliative Care the opportunity to lead and contribute to breakthroughs in the prevention and treatment of diseases among the geriatric population.
Why Give?
Mr. Tragen knows not a lot of money goes into geriatrics research. For him, it is not just about extending life, but also improving the quality of life. The more we can do to keep elderly people healthier longer, the better it is for our economy, for sustaining the elderly population and for the families involved. Mr. Tragen, whose wife, Ellie, passed away several years ago, has stated, "Perhaps if research [in geriatrics] was more advanced, maybe Ellie could have lived longer and she'd still be alive."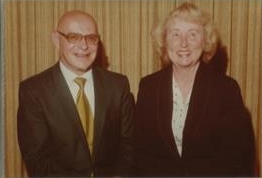 ---
Dr. Ruth Covell
Dr. Ruth Covell established The Ruth M. Covell, MD Geriatrics Education Fund here at UC San Diego with the purpose to provide support for the development of geriatrics education and special educational opportunities for medical students, residents, and fellows, and to encourage trainees to enter the field of geriatrics. As part of her gift, the Division of Geriatrics, Gerontology and Palliative Care was able to establish an annual award to be given to a graduating medical student, who has shown an expressed interest and demonstrated a commitment to geriatrics through scholarly activities, leadership, and/or participation in geriatrics programs here at UC San Diego. Dr. Covell was an advocate for geriatrics programs and education for many years. She had a longstanding career at UC San Diego, having retired as Associate Dean in the School of Medicine. As part of her accomplishments, she established the Academic Geriatric Resource Center, along with a student-senior partnership course, and was involved locally and at the state- and national-levels in geriatrics. She was faculty emeritus and was actively involved at UC San Diego until her passing.
Why Give?
Dr. Covell believed it is important to support geriatric education due to the urgent need for more effective strategies to attract trainees to the field and to educate ALL MDs, regardless of specialty, on the basics of treating older adults and resources available to help them.
Ruth Covell Obituary
Published by San Diego Union-Tribune on Nov. 20, 2022.
When she was two years old, Ruth told her mother she was going to be a doctor. After graduating Phi Beta Kappa from Stanford University in 1958, she entered medical school at the University of Chicago, where she was one of four women graduates in its Class of 1962. A passion for health care policy then brought her to Washington, DC, where she worked to implement Medicare.

In 1969, she settled in La Jolla to join the faculty of the University of California San Diego, School of Medicine. She served many years as Associate Dean for Programs and Policy before retiring in 2013. While at UCSD, she spearheaded significant initiatives including the creation of the Academic Geriatric Research Center and the School of Pharmacy. Her work at UCSD was recognized with numerous awards; most recently, The Dickson Award (2016) for her commitment to serving students and the community; and The Revelle Medal (2020), the highest honor given by the Chancellor for her sustained, distinguished and extraordinary service to the campus.

Committed as she was to UCSD, she was equally dedicated to community service. She served on dozens of boards over the years: Project Concern International, the Epilepsy Foundation of San Diego, La Jolla Historical Society, Women's Empowerment among them. She always sought to use her knowledge and skills to help narrow the opportunity gap. This included helping to secure the first federal grant for what is now San Ysidro Health, once a single community clinic, currently a network of over 50 sites across San Diego County serving over 100,000 low-income county residents. She served on the board until her passing.

In addition to large endeavors, she was involved in many personal projects such as bringing monthly meals to a local women's shelter, personally mentoring innumerable students, and helping those who were in need find lifesaving medical care. In 2013, the San Diego City Council recognized her community work by proclaiming "Ruth Covell Day" in her honor.

Born into an Irish Catholic family, Ruth became a Jew by Choice in the early 1970s and lovingly dedicated many years to her board responsibilities at Congregation Beth El, in La Jolla.

Ruth spent her childhood in Phoenix, and nurtured lifelong friendships with a cohort of women who mischievously called themselves 'The Slippery Seven'. She credited her doting grandfather for her having been bitten by the travel bug as a young child. In 1955, a study abroad trip to Vienna opened her eyes to the power of travel. On that trip, she gained a fearless sense of independence, while witnessing first-hand the importance of communicating with, and learning from people of diverse cultural backgrounds. She eventually traveled to over 80 countries, while supporting study abroad and international exchange programs. She encouraged her son Stephen to study and eventually live in Japan; and her stepdaughter Leslie to dedicate a year in Venice, Italy as an art student scout for the UC Study Abroad Program. A recurring, great joy was globetrotting with her grandchildren. She delighted both in introducing them to the world, and in having them as traveling companions.

An unforgettable almost 6 foot tall redhead, Dr. Covell was reliable, responsible and unabashedly heroic when she saw injustice or inequality. At the dinner table and in the boardroom, she offered a direct voice that at first might have been startling; but was often later proven sagely accurate. She advocated for mental health, and championed just journalism by sponsoring investigative programs on KPBS. Her motto, "Always a leader, never a follower be" meant whenever someone needs help, one cannot wait for others to step up: Jump in and take the lead!

Ruth dedicated herself to creating a warm home, filled with meaningful memorabilia from her family, friends, life and travels. She elated in planning, hosting and marking milestones with family and friends. She constantly and lovingly showed up to support her children and grandchildren at events in which they were involved. She was grateful to those in her realm who helped clear her path as she blazed through her daily calendar: On both professional and domestic frontlines. She lived passionately, loved fiercely, and died gently with family holding her hands. Her 40-year marriage to Harold Simon, M.D. followed her earlier marriage to James Covell, M.D. She was predeceased by husband, Harold Simon, M.D.; son John Covell and sister Frances Hamblin. She is survived by sons Stephen Covell, Ph.D. (Ying Covell, Ph.D.) of Michigan and David Simon, M.D. (Audrey Kim, M.D.) of California; step-daughters Leslie Simon and Lynne Simon, also of California; and six grandchildren. She is also survived by her brother Martin Collins, nieces and nephews.