Donor Spotlight
The Division of Geriatrics, Gerontology and Palliative Care is incredibly appreciative of the donations provided by individuals, who believe in the importance of geriatrics and share our vision to improve care for older adults. Two local philanthropists and their gifts to our division are highlighted below:
---
Mr. Irving G. Tragen
Mr. Irving G. Tragen has been a strong supporter of geriatrics for many years. His donations to the division are earmarked for the purposes of enabling research and investigation into the causes and effects of age-related disease and providing the UC San Diego Division of Geriatrics, Gerontology and Palliative Care the opportunity to lead and contribute to breakthroughs in the prevention and treatment of diseases among the geriatric population.
Why Give?
Mr. Tragen knows not a lot of money goes into geriatrics research. For him, it is not just about extending life, but also improving the quality of life. The more we can do to keep elderly people healthier longer, the better it is for our economy, for sustaining the elderly population and for the families involved. Mr. Tragen, whose wife, Ellie, passed away several years ago, has stated, "Perhaps if research [in geriatrics] was more advanced, maybe Ellie could have lived longer and she'd still be alive."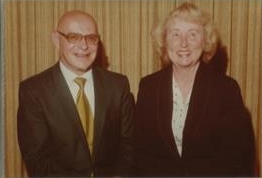 ---
Dr. Ruth Covell
Dr. Ruth Covell established The Ruth M. Covell, MD Geriatrics Education Fund here at UC San Diego with the purpose to provide support for the development of geriatrics education and special educational opportunities for medical students, residents, and fellows, and to encourage trainees to enter the field of geriatrics. As part of her gift, the Division of Geriatrics, Gerontology and Palliative Care was able to establish an annual award to be given to a graduating medical student, who has shown an expressed interest and demonstrated a commitment to geriatrics through scholarly activities, leadership, and/or participation in geriatrics programs here at UC San Diego. Dr. Covell has been an advocate for geriatrics programs and education for many years. She had a longstanding career at UC San Diego, having retired as Associate Dean in the School of Medicine. As part of her accomplishments, she established the Academic Geriatric Resource Center, along with a student-senior partnership course, and was involved locally and at the state- and national-levels in geriatrics. She is faculty emeritus and is still actively involved at UC San Diego.
Why Give?
Dr. Covell believes it is important to support geriatric education due to the urgent need for more effective strategies to attract trainees to the field and to educate ALL MDs, regardless of specialty, on the basics of treating older adults and resources available to help them.