Leadership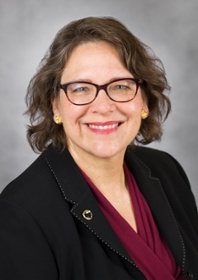 Alison Moore, M.D., M.P.H.
Professor and Division Chief
Alison Moore, M.D., M.P.H., is a board-certified internal medicine doctor and geriatrician who specializes in caring for older adults. She provides primary care to patients, with an emphasis on health maintenance, disease prevention, and treatment of acute and chronic diseases and preservation of function. As a geriatrician, Dr. Moore aims to keep older people healthy and high functioning as they transition through the stages of aging. Her expertise includes providing therapeutic and rehabilitative care for conditions or health concerns that are common among older adults, such as frailty, falls, incontinence, memory and cognitive problems, and medication-related side effects. She also has expertise in end of life care and advance care planning.
Dr. Moore is a nationally recognized physician, scientist and educator in her field.
As chief of the Division of Geriatrics, Gerontology and Palliative Care in the Department of Medicine, she leads the division's efforts to establish excellence in clinical care, education, research, and community engagement. As a professor, Dr. Moore also lectures to students, residents, fellows, faculty, and the community on topics such as healthy aging, age-friendly health systems, and substance use.
Her research over the past 20 years has focused on the epidemiology and health-related effects of alcohol and other substances among diverse populations; and developing and testing screening and brief interventions to reduce unhealthy alcohol use among older adults. She has led many research grants funded by the National Institute on Aging (NIA), the National Institute on Drug Abuse (NIDA) and the National Institute on Alcohol Abuse and Alcoholism (NIAAA). Some of her new research focuses on how technology can assist older adults to remain independent.
Dr. Moore is extensively published and has co-authored over 80 peer-reviewed articles.
Her work has appeared in the Journal of the American Geriatrics Society and the American Journal of Geriatric Psychiatry, among others. Dr. Moore also reviews for numerous medical journals and presents frequently at seminars and national medical conferences.
Prior to joining UC San Diego Health, Dr. Moore was the chief-at-large of the Division of Geriatrics at UCLA Health and a professor of in the Departments of Medicine and Psychiatry at the David Geffen School of Medicine at UCLA.
She completed a fellowship in geriatric medicine at the UCLA Multicampus Program in Geriatric Medicine and Gerontology and a residency in internal medicine at Brown Alpert Medical School, Rhode Island Hospital. Dr. Moore earned her medical degree from Tulane University School of Medicine in New Orleans and obtained a master's degree in public health from Tulane University School of Public Health and Tropical Medicine. She is board-certified in internal medicine and geriatric medicine, and is a fellow of the American College of Physicians (FACP).
Dr. Moore is an active member in the field of Geriatrics & Gerontology.
Dr. Moore is a member of the American Geriatrics Society, the Gerontological Society of America, and the Research Society on Alcoholism. She has been active in many national committees and currently serves on advisory committees for the American Geriatrics Society Foundation in Aging and the American Federation for Aging Research.
Outside of work, Dr. Moore enjoys exploring San Diego, spending time with family and friends, and walking her dog, Kenji.